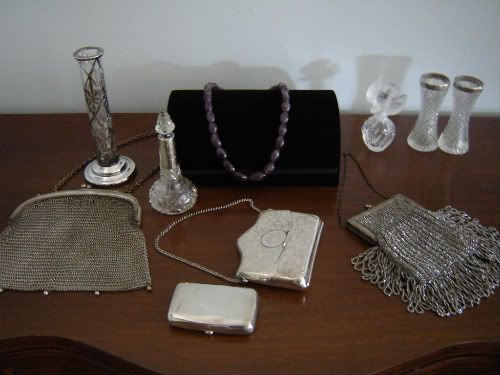 A collection of unique treasures from ca. 1895 to 1950
One of my New Year's resolutions was to avoid a mad rush during the 2010 Holiday season, and to start Christmas shopping early. September and October is when merchants have stocked up and are beginning to display their merchandise for the coming Season. At this time it is actually easier to find a good variety of the staple gifts such as sweaters, shirts, and gloves. The toy stores are not so jammed at this time allowing you to actually think when choosing that perfect gift for the delightful child on your list.
An evening bag that sparkles in the light, made of small steel beads, ca. 1920
Of course, for people on my list who like unique gifts, I always think of antique and vintage things, some of which might be found in my boutique. When buying an antique, always make sure it has been scrupulously cleaned, or you may clean it yourself as soon as you bring it home.
An English sterling silver evening bag/change purse, 1909
To avoid last minute gift wrapping, I always wrap gifts as soon as possible after I purchase them. An antique needs to be wrapped with extra care. If it is large, such as a piece of furniture, an attractive bow is all it needs. A small object can be wrapped in tissue paper and placed in an attractive paper gift bag tied with ribbon. Raffia tied around the handles of a brand new brown paper gift bag is especially appropriate. An antique can also be placed in a brand new box and wrapped with appropriate gift wrap. An antique or vintage gift should always be accompanied by a card or small note on parchment paper giving a full description of the object including the approximate year of origin, the place of origin, the maker, the material, and the pattern, if applicable. The addition of a history of past owner(s) is always welcome if it is available.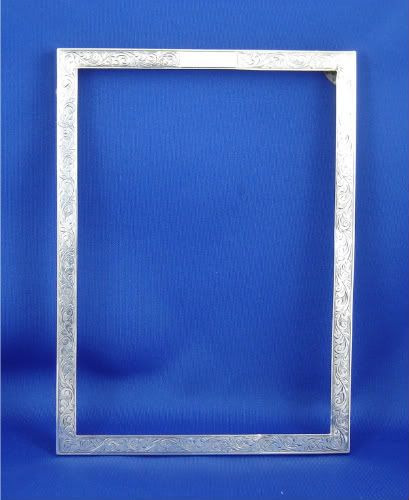 An English sterling silver 5 X 7 picture frame, 1954
Over the Holidays I like having favours for my guests on hand because we all become like children at that time of the year. Children's favours are always easy to find. I will have small flashlights and tape measures for the men. I found these delightful pocket tissue packs for the women.