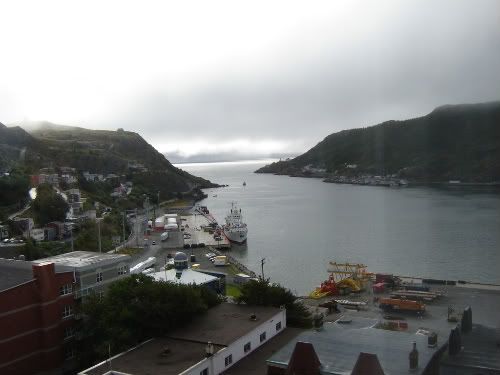 Across St. John's Harbour--a Fjord, is the Easternmost Point of North America
My son and daughter-in-law were married last Saturday in the bride's hometown of St. John's, Newfoundland. My husband and I hosted the rehearsal dinner the night before at the Clovelly golf club in St. John's. I had never been to Newfoundland before and needed to make all the plans from home in Toronto. Early on Friday, the day of the rehearsal, my husband, daughter, and I arrived at the club with pre-printed menus, name cards, memory runners for the two tables, and last minute instructions for the club. Our dinner was scheduled to be held in the club's regular restaurant, but to our pleasant surprise, the events people offered us the members' lounge exclusively for our party.
The members' lounge is a large square masculine style room with dark furniture and paneling. There is a bar in one corner, and a grouping of wing chairs in another corner bracketed by large bay windows. Another seating area is in front of a rustic fireplace.
After the rehearsal at the church, all of us arrived at the club, the bridal couple, their ten attendants, and the bridal couple's parents. Because it was a little cool outside, the fire was already burning in the fireplace making the room warm and inviting. Two tables were set with dark brown table cloths, the memory runners, votive candles, and flowers in long bud vases. We had a chance to bond as we lingered near the fireplace over drinks and appetizers before sitting down to dinner. My son made a gracious speech thanking everyone for their help. He and his fiancée then distributed their gifts to everyone in the bridal party. Excitement reigned and stayed with us in anticipation of the following day's festivities.