Pressed glass basket
Glass has been produced since ancient times. Glass is made from silica, lime, and soda. Lime is the stabilizer and soda serves to lower the temperature when added to the silica.
Royal Brierley candlesticks
The way glass objects are made can be divided into four major groups: blown, mould-blown, pressed, and moulded glass. Blown glass is the traditional method where a glass blower dipped a long hollow pipe into molten glass and picked up a small glob on the end and blew into it to adjust to the correct size. The product was finishing by rolling it over a slab of marble or metal. The mould-blown method is done by blowing the glass into a mould and forcing it against the sides of the mould. The pressed glass method is forcing molten glass into moulds without using blowing power. Pressed glass was first made in 1827. Pressed glass pieces always have smooth interiors and patterned exteriors. Moulded glass objects are made in the same way as pressed glass, except that larger moulds were used.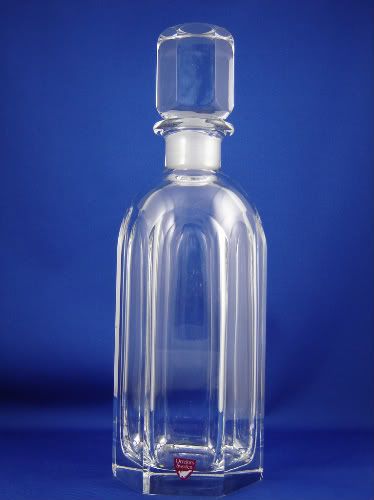 Orrefors decanter
As I search for additions to my boutique inventory, I generally come across glass objects that originated in the 19th and 20th Centuries. Most 19th Century glass objects that have survived until today show they are lovingly made and so exquisite that they are hard to resist. During the 19th and 20th centuries, glass factories produced large quantities of glass objects. Some of the beautiful glass objects produced since the 1920s are vintage and not yet antiques. Many of them are works of art highly prized today and are destined to become antiques of the future.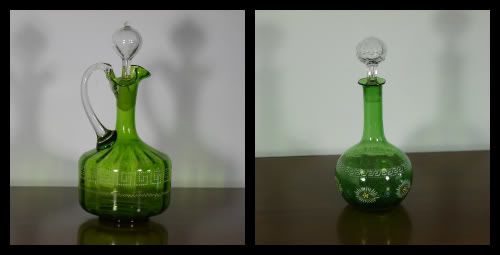 Victorian enameled decanters ca. 1880
Glass is coloured through the addition of oxides to the molten glass. The other ways glass is decorated are primarily by cut, etched, engraved, painted, and stenciled decoration.
Cranberry glass ca. 1875
Highly prized is cranberry glass is named for its colour. Cranberry glass was blown, or mould-blown. The colour was produced by adding powdered gold to molten amber glass and reheated. Less expensive glass made by adding copper instead of gold can be identified by a bluish tinge in the colour of the glass. The set of glasses above are antique cranberry glass, true to the cranberry colour.