It is a real pleasure to be outside in the summertime. Besides trying to keep up my tennis game, I enjoy the plant life and natural scenery at this time of year. I have always had a great passion for gardening.
Urban gardens tend to be more formal and groomed, with balanced plantings and geometrical hardscapes, than the natural country gardens. The challenge is to have a good balance between the architectural features and the plants. I try adding as much living plant material as possible to soften the hardscapes and to imitate nature while maintaining a partially formal clipped look.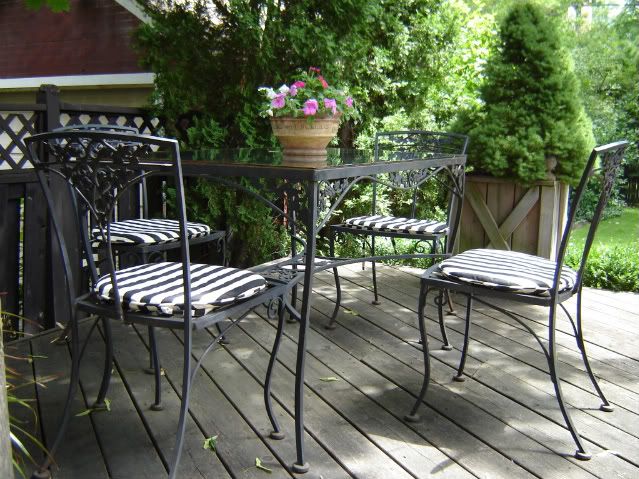 A friend who has a tranquil urban garden in an older Toronto neighbourhood known for its large shade trees, inherited this vintage wrought iron table and chairs from the late 1940s / early 1950s, shown above and in the next two photos.
The decoration is detailed having a good design and style without being heavy looking or too ornate. Although decorated, the style of this set is restrained with a classic look. The glass in the tabletop is not the original and needed to be replaced only once due to an overhead branch of a tree breaking and crashing into the glass top one icy January. Otherwise, the table and four chairs have survived many cold and cruel winters in Toronto with minimal upkeep. My friend inherited her ancestor's excellent taste and created a perfect place to set them off to their best advantage.
Patio furniture adds to the bones of the hardscapes. It's best for the patio furniture to look inviting, be well designed, and not add a cluttered look or be so overwhelming as to compete with the plants. My favourite is black or dark green wrought iron furniture. Wrought iron is practical, adding style and form to the space. A dark colour makes it recede and blend in with the space.
Ten years ago, I was delighted to have found my own round patio table with glass top, four chairs, and gliding bench (glider) made by Meadowcraft in Alabama, U.S.A. The furniture still looks like new, is of a gracious classic design, and easy to maintain. The chairs and bench are also comfortable. The chairs actually seem to be sprung and have some give when leaning back. They look inviting and pleasant all four seasons of the year.
To accommodate more guests when we entertain, we add some of the small vintage wrought iron tables and folding chairs I have stored in the garden shed.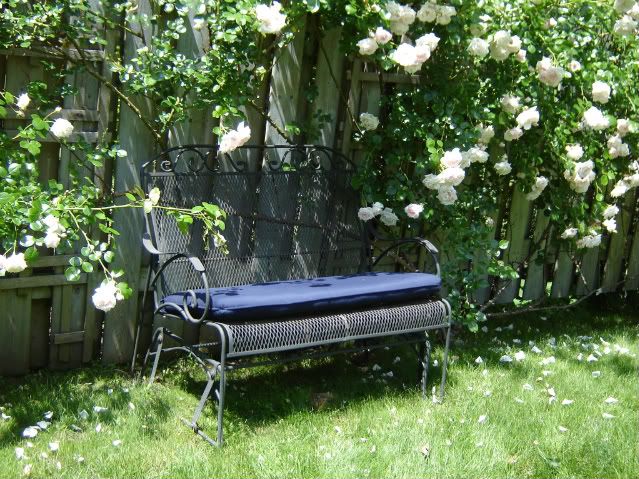 Pictured above is my gliding bench beneath the New Dawn climbing rose in full bloom.
Meadowcraft has a longstanding reputation for producing quality wrought iron furniture of good design. They are the largest U.S. manufacturer of outdoor wrought iron furniture.
Note: Meadowcraft has given me permission to mention their company and are not paying me for giving them this recommendation. I am not related to anyone at Meadowcraft. I simply appreciate their excellent products.