Straying Continents by El Anatsui
Over the weekend, I expected to visit the Royal Ontario Museum to look at the old textiles in its permanent collection. A friend strongly suggested I use the time instead to go to the Contemporary Culture area of the museum, and see the El Anatsui exhibition "When I Last Wrote to You about Africa". The 60 works on display highlighted his works over a period of forty years. I was taken with the sensuality of his works in the textures of the wood and ceramic sculptures, and in the textures of the metal tapestries. Indeed, the metal tapestries, his latest works of the last eight years, command the greatest attention. At first glance they look like beautiful shimmering fabric with patterns and colours having a definite African feel. They seem to be undulating with movement and are meant to change with time and gravity. On close examination they are made of liquor bottle caps and sleeves cut, crumpled and shaped, and connected with copper wire. The liquor bottle tops make a historical reference to liquor being one of the first commodities brought from Europe to Africa in exchange for slaves and goods. The reuse of the bottle caps also emphasizes how Africans tend to incorporate foreign elements into their practices. It is also a commentary on the impact of consumer goods on the environment.
Detail of Straying Continents by El Anatsui
The exhibit shows El's passion as he explores Africa's past, present, and future through his art. He never gives an overt message but subtly works through some of the African people's painful past in his art.
Detail of Straying Continents by El Anatsui
The taking of photos of the exhibit itself was prohibited. However, I did have permission to take these photos of the large splendid metal tapestry the Royal Ontario Museum commissioned for its permanent collection. It is called Straying Continents.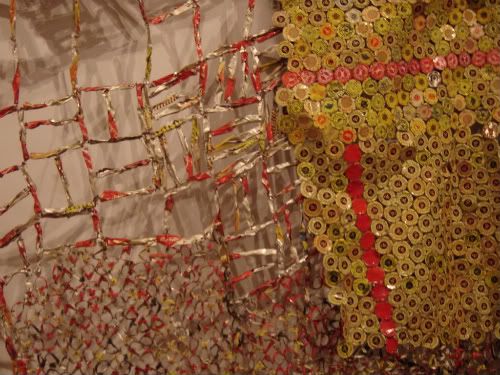 Detail of Straying Continents by El Anatsui
El Anatsui, is a Ghanaian sculptor born in 1944 who lives in Nigeria. The El Anatsui: "When I Last Wrote to You about Africa" exhibit is on tour for the next three years. It will be at the Museum for African Art in New York after leaving the Royal Ontario Museum at the end of February.