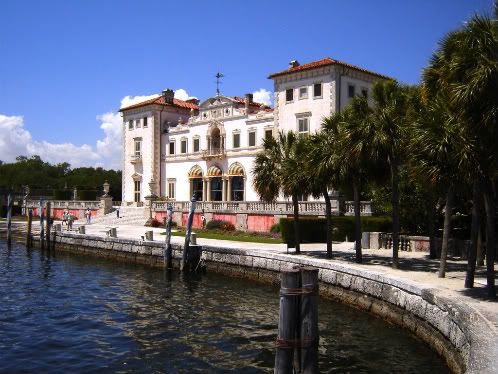 The

East

Façade
While I was Florida last month, I took the time to visit Vizcaya in Miami. As with many visitors before me, I was thoroughly enchanted.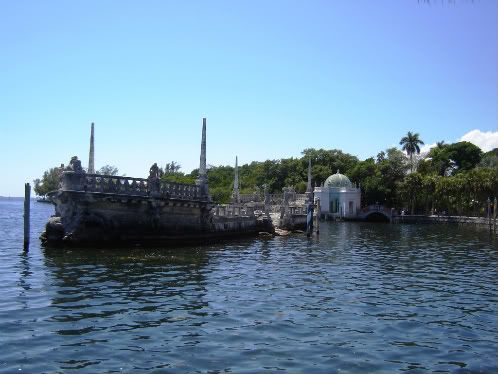 Stone Barge and Tea House
James Deering built Vizcaya in 1916 in the style of Italian Renaissance and Baroque villas. He adapted it to Florida's sub-tropical climate, and made sure to install all the modern conveniences of the early 20th century. Assisted by interior designer Paul Chalfin, architect F. Burrall Hoffman, and landscape designer Diego Suarez, he wanted the house to look as if it had been there for 400 years and furnished by succeeding generations of the same family.
Centre Island surrounded by a Reflecting Pool
When James' family eventually sold Vizcaya to Miami in the 1950s, they also donated most of its interior furnishings that James had purchased to fill the house with the help of Paul Chalfin on their many trips to Europe. He had amassed what resulted in an important collection of 16th century to 19th century decorative arts, and antiquities.
Water Stairway
My photos are of the outside of the house and the Italian style garden with its sub-tropical Florida plantings. The taking of photos inside the house is not currently allowed.
The Casino
The casino pictured above gave guests a chance to get away from the formality of the house. The loggia offered views of the house and gardens. It contains two rooms decorated in the 18th century style, where guests could have tea.
New World
. I am now under the spell of Vizcaya, and I will return and visit it again and again.