On Friday, I went to the IDS12, the Toronto Design Show to see what's new in style, colour and design. I always lean toward quality in products and designs that have a timeless appeal. The exhibitors were anxious to give me detailed information of the products as I made my way along the many booths.
The products featured here particularly appealed to me.
Town and Country Fireplaces
This Town and Country fireplace is the world's largest factory-built vent gas fireplace. It is grand at 54" X 44". The tall flames behind a non-reflective ceramic glass look like an open fire. There are other fireplace-surround choices available for this fireplace to suit your taste. John Slaven at Marsh's Stoves and Fireplaces in Toronto can give you all the specifications.
Modallion rug
This exquisite rug is one of the Modallion collection of rugs designed by Robyn Waffle. It is of a tribal motif with circle of life imagery in subtle colouring. Modallion has its rugs hand-woven in Nepal. This one is of wool and silk. There are many more designs, colours, and sizes in the collection.

Modallion is a division of Reznick Carpets owned by Jordan Reznick. Through Modallion, Jordan brings new designs to the traditional art form of rug making.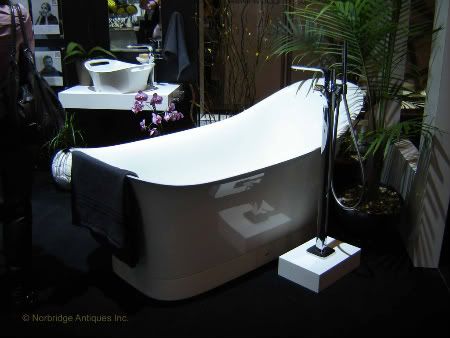 Hansgrohe Axor bathtub
For a luxurious soak in the bathtub, this freestanding bathtub is the ultimate in design. It is deep enough to fully immerse and high enough at one end to rest your head. The continental shower stand beside the tub adds to the luxury of bath time.
Giovanni de Maio tile floor Photo: Giovanni de Maio
These tiles were produced
on the Amalfi coast of Italy
by Giovanni de Maio which draws on a two hundred year art pottery tradition. Each tile is handmade and hand-decorated. The wall and floor tiles come in many different traditional and modern patterns. Seeing them filled me with a sense of warmth and beauty.

When I left that afternoon, I had the confidence that quality, value, good design, and craftsmanship are the continuing characteristics of this important show.