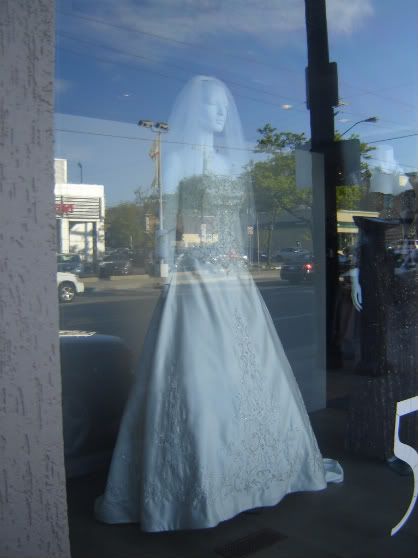 The mannequin all dressed up is looking at the traffic from the window of
Ritché's
on Avenue Road, a bridal dress shop in Toronto.
As soon as my son announced his engagement on New Year's Eve, the wedding plans took on their own life. Following tradition, my husband and I decided to host the rehearsal dinner in honour of the bride and groom. Because the wedding is taking place on Canada's east coast, I needed to book a venue I have never seen, in a province I've never visited. I am reluctant to ask my son's future in-laws for help because they have a whole wedding to plan.
I am quickly coming to terms that some services we take for granted in a large city, just aren't as easy to obtain in a smaller city. I might need to live with the colours of the tablecloths that are already there, and since they don't provide floral services, I will have to find a florist at a long distance. On the other hand, the menu sounds wonderful. It is refreshing to see the menu offerings with "real food" choices. It's not comfort food but food that is elegant and at the same time not too precious. We will also have the option to give our guests five main course choices including some local food options. The appetizers and desserts are also just right. The menu has not yet been finalized, and I welcome any menu suggestions.
From what I have heard the venue has a wonderful view. Although it is close to the city, apparently people sometimes see moose crossing the green. I hope we do see a moose or two; even one would be a treat.
Choosing just the right invitations was an event in itself as my husband and I leafed through all the beautiful choices in a large
Crane
catalogue. I chose these because they are not too formal and are not wedding invitations, and because the colours co-ordinate well with the tablecloths on the tables.
We will have white and yellow daisies with low candles on the tables. To go with the yellow theme, I think I will wear yellow. Do you think my daughter, the groom's sister, will too? I must ask.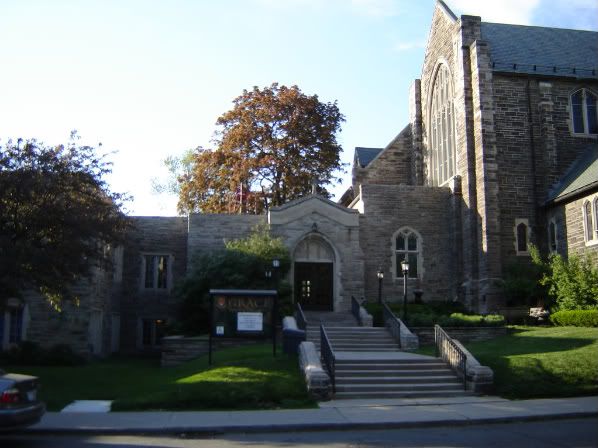 The wedding isn't here, but if you're getting married in Toronto,
Grace Church-on-the-Hill
seems just right.