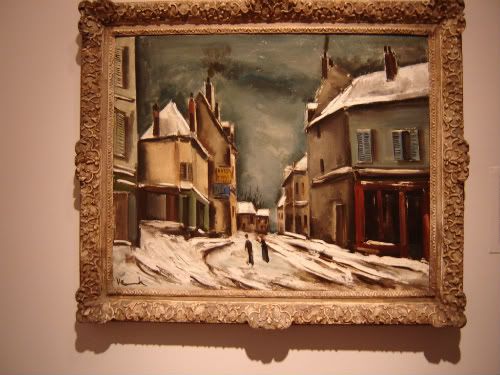 Maurice de Vlaminck 1876-1958 Street in Epernon, Winter, 1927
When I visited the Norton Museum of Art in West Palm Beach, I was delighted to find street scenes painted by two French painters of the early 20th century whose work I admire.

I've always been drawn to Utrillo and Vlaminck street scenes because of their structure and because they have the contradictory effect of being both calming, and at the same time stimulating to the imagination.
Maurice de Vlaminck 1876-1958 - this painting is an example of his Blue Period 1908-1914
Maurice de Vlaminck 1876-1958 was greatly influenced by Van Gogh and is known more for his earlier Fauvism period 1904-1908, which lasted only about five years, when he associated with Derain and Matisse.

Later Vlaminck continued painting with boldness and thick textured impasto, but developed a darker toned-down palette.
Maurice Utrillo 1883-1955 Rue de Montmartre 1916/1918
Maurice Utrillo 1883-1955 was encouraged and taught to paint by his mother, Suzanne Valadon, who was an accomplished artist. He showed he had a definite artistic talent and began to paint in 1904 after a bout of mental illness.

He painted what he saw in the Paris neighbourhoods, primarily Montmartre and its suburbs.

By the 1920s his work received international attention.

The period from 1911 to 1918 when Utrillo painted street scenes is considered his best and is called his "White Period".


The works of Utrillo and Vlaminck appeal to a nostalgia for pre-industrial simplicity.
The Norton Museum of Art in West Palm Beach is an important cultural attraction in Florida. It houses a noteworthy permanent collection of 19th century and 20th century painting. When you go, it is worth eating at the café which offers excellent food in an inviting setting.