My decorating continues in stages all through to mid-December.
After adding just a few decorations on the bare wreath at the side door, I decorate the mantle. I prefer using fresh natural evergreens, but since the boughs on the mantle cannot easily be kept moist, I use fake boughs. Just before guests arrive during the Christmas season, I always add a few fresh sprigs of fir to the fake boughs for a better effect.
In previous years, the thick candles decorating the mantle at Christmas time were always real beeswax candles. This year, to avoid having open candle flames so close to the wall, I decided to use battery operated candles that come with an outer covering of wax giving the appearance of real candles. In the evening, these candles radiate a similar glow.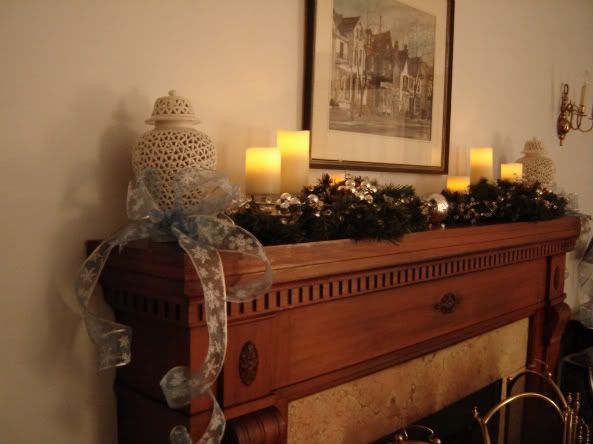 Most of the remaining decorating in our house is done with fresh natural boughs except for the tree ornaments I have collected over the years. Last weekend we purchased the Christmas Tree at my favourite garden centre,
Sheridan Nurseries
. It is a Fraser fir eight and one half feet high. When buying a real tree it is always a struggle bringing it into the house and setting it up. It has become easier ever since we've had a
swivel base stand
. We bring the hard plastic trunk receptacle cover to the garden centre to be fitted neatly over the tree trunk. The people at the garden centre also loosely tie the tree to make it narrower for transporting. For further transport protection, the tree is placed into a long bag. When we get home all we have to do is make sure the base is ready and positioned in its designated place sitting on a plastic sheet for further protection of the floor. It takes two of us to bring in the tree bottom first. The base of our tree stand has a lever to straighten the tree in the event that it is not quite straight.
This year, we chose the perfect tree which took twenty minutes to put up from the moment we arrived home. Of course, adding the lights is the difficult part of tree decorating. A stepladder always helps. The lights are on the tree, and it is now ready for our tree trimming party on the 23rd when our dinner guests will help us hang the ornaments.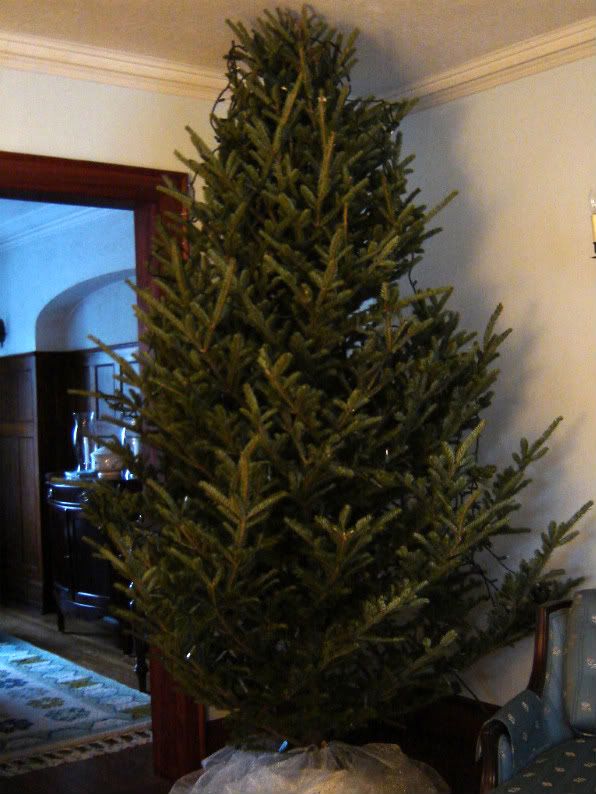 The Christmas cactus which began blooming for the American Thanksgiving continues to bloom for Christmas.