I hope you had a lovely time at Christmas. Now that 2010 is just over, I think of what I have learned about Christmas entertaining, indeed what I have learned about life over the past year.
New Year 2011
Christmas Eve has always been important at my house. This year we were seven for dinner. I set the table with Irish linen, the good china, and sterling silver flatware. One of our guests sent a beautiful oblong centre piece of red flowers and evergreens ahead of time. To make things run more smoothly, we passed around the smoked fish canapés, and cheese appetizers before sitting down at the table. My best beau always serves the drinks before dinner, pours the wine, and takes care of the coffee after dinner. The drinks were excellent, the food was good, and the guests entertained us with their lively conversation.
Of course, there is always something I regret. This year I used everyday glassware with my best linen, china and silver so that I wouldn't have to wash the crystal by hand at the end of the evening, as I am typically up again at 6 a.m. preparing for Christmas Day dinner. I will never do this again because I sacrificed some of the table's potential beauty. From now on, when entertaining I will be sure to use the crystal because it just wasn't worth saving the extra work. To my mind, beauty must always take precedence. There are three ingredients to successful entertaining: the people, the table setting, and the food.
Christmas Eve 2010
For the table setting, if I use the best linen, china and crystal I have, there is no decoration needed other than flowers. Restraint is key.
This morning on New Year's Day, we entertained friends for brunch. I refreshed the centre piece with fresh fir sprigs, red roses and lilies. This photo shows the table with a mix of modern and vintage crystal.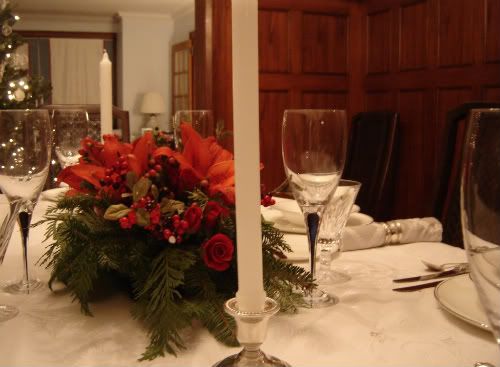 New Year's Day 2011
Among the things I've learned about life over the past year is how precious true friendship really is. I am grateful for my old friends and the new friendships I have made in 2010.
Happy New Year to you!