I wish all of you a Merry Christmas and much happiness.
Christmas 2010
The meaning of Christmas is all about giving. At this time of year, we are generous with giving both gifts and our time to our relatives and close friends. Many of us also remember to give to those in need so that they and their families can enjoy a special Holiday, too. Friendship and unconditional love are among the greatest gifts we can give.
The true meaning of Christmas fills my heart at this time of year, but the child in me has hopes and dreams for the luxuries of life.
One of my hopes is for tickets to the
Metropolitan Opera
.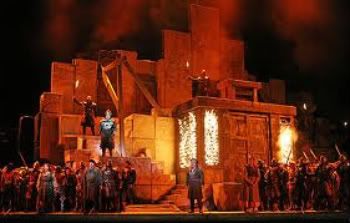 Verdi's Nabucco
I still dream of a diamond tennis bracelet from
Tiffany's
,
a Schlumberger Lynn bracelet in 18k gold with diamonds.
I dream of adding beauty to every corner of my house with the help of excellent interior design as provided by my friend Scott Tjaden of Tjaden Interiors. Good interior design is about maintaining a level of the lifestyle we choose. Tjaden Interiors has an online program making it all possible through photographs and an online consultation where luxury and living well is only a click away,
Tjaden Interiors Virtual Design Service
.
I dream of an 18th century antique mirror from the exquisite
Therien & Co.
collections. My friend Philip Bewley is based at their Therien & Co. San Francisco gallery. This pair of Spanish neoclassic gilt mirrors is from the fourth quarter of the 18th century, and is described as the oval plate within leaf tip and garrya husk carved frame with sunflower rosettes, surmounted by ribbon cresting. The overall dimensions are
32" wide x 42½" high.